Obama adviser and heads of House and Senate intelligence signal hard line despite European support for whistleblower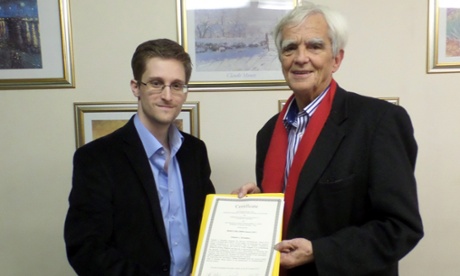 Edward Snowden with Hans-Christian Stroebele. Photo: Irina Oho/HO/EPA
– White House rejects clemency for Edward Snowden over NSA leaks (Guardian, Nov 3, 2013):
The White House and leading lawmakers have rejected Edward Snowden's plea for clemency and said he should return to the United States to face trial.

Dan Pfeiffer, an Obama administration adviser, said on Sunday the NSA whistleblower's request was not under consideration and that he should face criminal charges for leaking classified information. Dianne Feinstein and Mike Rogers, respectively the heads of the Senate and House intelligence committees, maintained the same tough line and accused Snowden of damaging US interests.